Skip to Main Content
It looks like you're using Internet Explorer 11 or older. This website works best with modern browsers such as the latest versions of Chrome, Firefox, Safari, and Edge. If you continue with this browser, you may see unexpected results.
Fake news in the news
Let's just get a few things straight about what we mean when we talk about "fake news."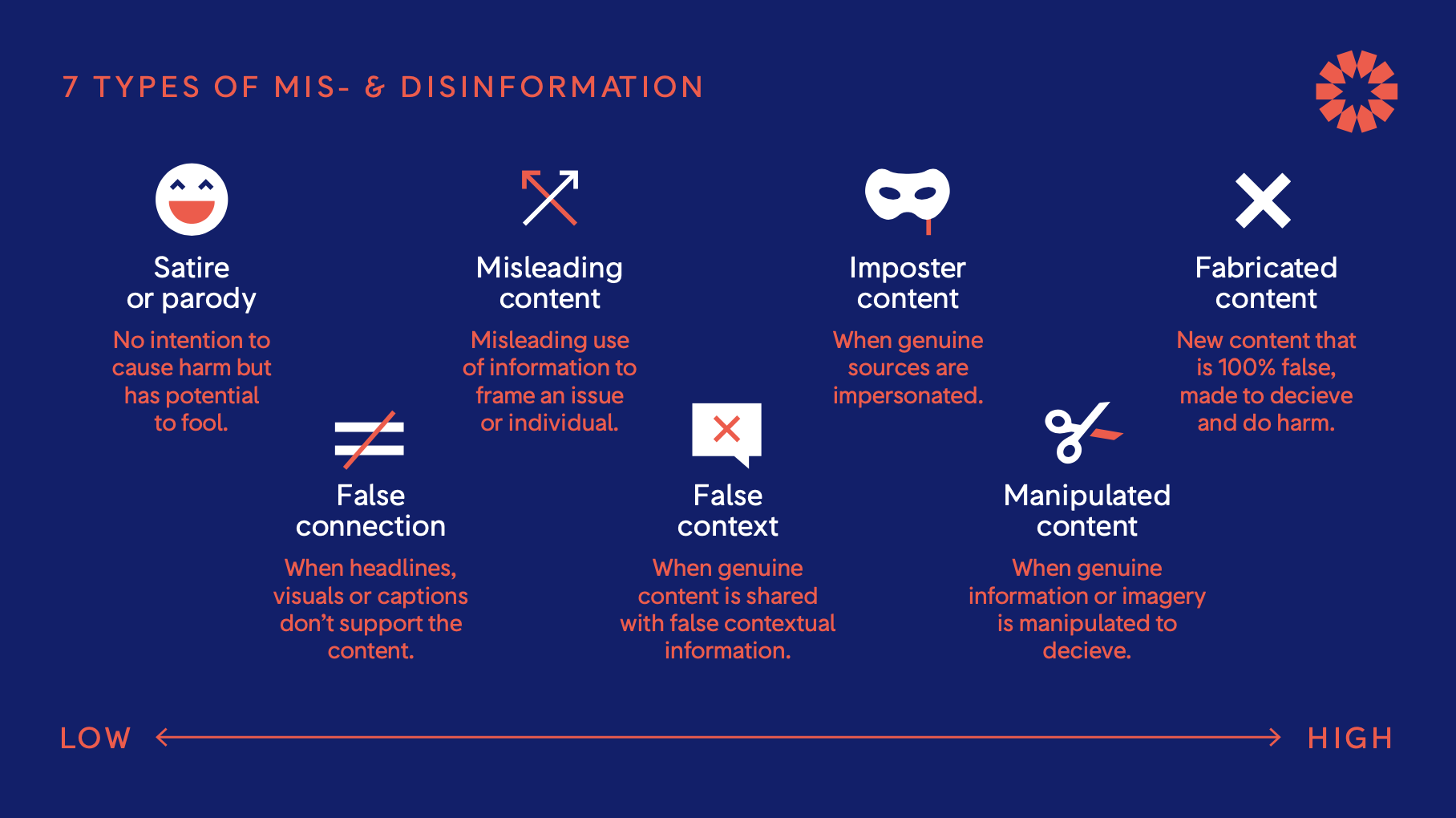 FA

KE NEWS: This term has become a politically charged term without clear definition. It's best to avoid using it, instead choosing a more definitive and recognized term from the list below.

DISINFORMATION: content that is intentionally false and designed to cause harm. It is motivated by three factors: to make money; to have political influence; or to cause trouble.

MISINFORMATION: false content being shared by someone who doesn't realize that it is false or misleading. Often a piece of disinformation is picked up by someone who doesn't realize it's false, and shares it with their networks, believing that they are helping.

MALINFORMATION: genuine information that is shared with an intent to cause harm. An example of this is when Russian agents hacked into emails from the Democratic National Committee and the Hillary Clinton campaign and leaked certain details to the public to damage reputations.

MISLEADING CONTENT: Reframing stories in headlines, using fragments of quotes to support a wider point, citing statistics in a way that aligns with a position or deciding not to cover something because it undermines an argument are all recognized techniques. It's hard to define exactly because it's about context and nuance. How much of a quote is omitted? To what extent have statistics been massaged? Has the way a photo was cropped significantly changed the meaning of the image?
Image and definitions from Understanding Information disorder - First Draft (firstdraftnews.org).
CLICK HERE to read more.
Credit
This guide was created by Kathy Pearce of Oyster River High School. It was used with permission.